Integration of the courses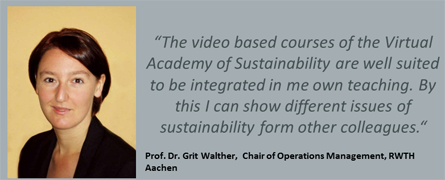 You can integrate single courses or the complete offer of the courses in your university calendar, e.g. as a course for the field of "General Studies". You can also use the courses as an addition in special programs of study or in certificates. By using the online courses of the Virtual Academy of Sustainability, you expand your education for sustainable development and your students have the chance to develop their technical and vocational skills.
For the integration of the video based courses, you have different possibilities:
Integrating the complete offer of the online courses in your education ("Complete Offer: Online Courses and Online Exams")
Integration of a single or several courses in already existing courses ("Component Offer")
Building of Blended-Learning-Modules (e.g. putting together an online-course and a regular seminar to a new course)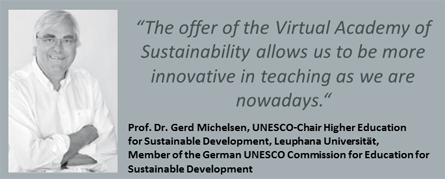 If you are interested in any possibility of integration, please get in contact with us. We will be glad to help you finding the best integration form.