Goals of the Academy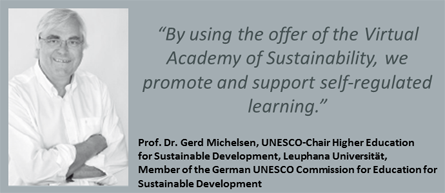 A nationwide teaching offer for education for sustainable development

The Virtual Academy of Sustainability supports German Higher Education Institutes in reaching the goal of the UN-Decade by offering an innovative teaching concept based on video courses. The courses can be used from all German Higher Education Institutes or their lecturers. The video based courses are designed in a way that they are useable for optional courses, "General Studies", "open studies" or specialization modules or certificates. The validity prove can be completed in any Higher Education Institute.